Clapham Common, London
ACROYOGA SUMMER OVERDOSE
Summer, 2019
Acro yoga for every body, every week
Time: Every Sunday 1pm - 3pm
Location: Long Pond, Clapham Common
Price: £10
Our classes are open to ALL LEVELS and you do not need a partner, just bring a mat, a bottle of water, and a lot of happiness!
Develop your skills in a safe and nurturing environment as you learn the fundamentals of spotting, basing and flying. Whether you come with a friend or on your own, you will be sure to learn something new.
Classes are for all levels and differentiated based on your level of acro yoga experience - there's something for everyone!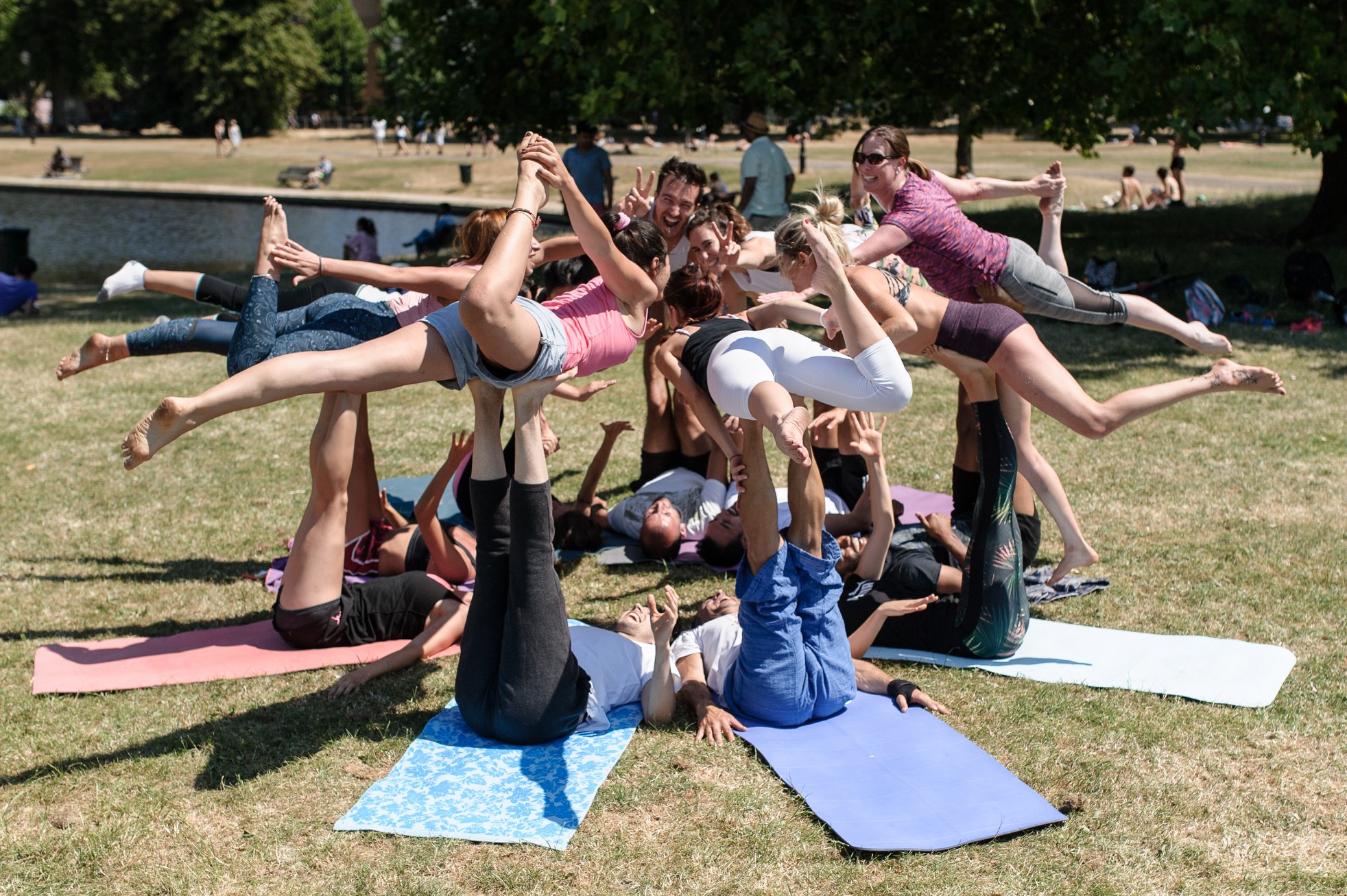 The fun doesn't stop after class…
We keep on playing after every acro yoga class as we join up with the South London Acro Yoga group for the Clapham Common Acro Jam. Meet new friends and try out your new skills in a supportive and playful environment. Every weekend is an opportunity to dive deeper into the London Acro Yoga community and further your journey as an acro yogi.
The same spot, every week
Where to find us…
Classes take place just next to Long Pond, opposite Lambeth College Clapham Centre on Clapham Common.
Nearest tube station:
Clapham Common / Clapham South
(Northern Line)
Nearest overground station:
Clapham Common / Clapham High Street
Nearest bus stop:
Long Road Clapham Common (Stop M)
FAQ
Looking for a bit more info? Check the answers below and if you have any others, please contact Acroyoga Sanctuary through the form below.
How long is each session?
Our Acroyoga Sanctuary Summer Overdose last 2 hours (120 minutes) and are followed by a free Acro Jam until the sun sets!
Most of our acro yoga classes are delivered by lead instructor, Angelo Tormena, and an assistant or guest instructor. On occasion, classes are covered by other highly-qualified guest instructors. Further details can be found on our Facebook Events Page.
What should I bring to an acro yoga class?
Please come in comfortable activewear; you will need to be able to move freely while we practice and perform.
We also suggest bringing a mat / towel to use during the session.
Finally, please bring some water and (if you intend to join us afterwards for the Clapham Common Acro Jam), bring a healthy snack or something to share with the rest of the participants - acro is very much a community sport!
Do I need to have a partner base/flyer to join?
Not at all! In fact, our classes and the jam are a fantastic way to meet your future acro partner!
Come alone or bring a buddy, the choice is yours!
Would you like us to teach at your studio?