Take flight and elevate your practise!
Develop beautiful acro yoga flows, sequences and transitions with our bespoke, 1-2-1 and small group coaching.
At Acroyoga Sanctuary, we truly believe that the quickest route to becoming a skilled acroyogi is through 1-2-1 tuition and transmission. We offer private, 1-2-1 lessons, in and around London, which are the perfect way to cater to your experience level. Our personalised sessions are designed to work around your schedule and can take place in your home, studio or office.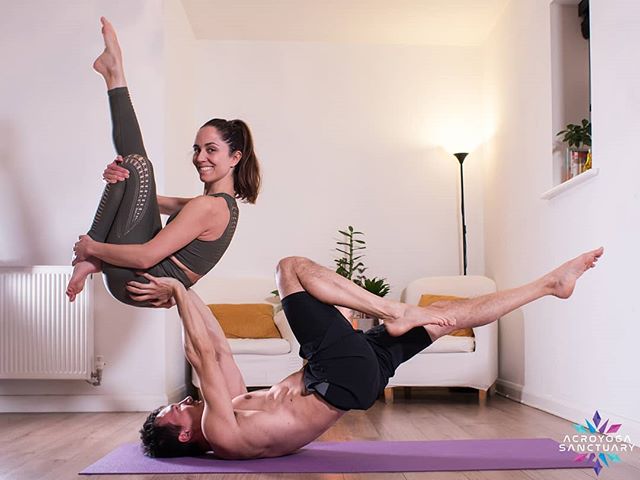 We also know that coming to your first class or acro jam can be a little intimidating for beginners and our 1-2-1, private lessons are a great way of easing you into practicing acro yoga. Training in a safe, controlled environment with an experienced instructor is a perfect starting point for any newbie.
Whether you are an advanced acroyogi working on complicated washing machines and h2h, or if you are new to Acroyoga and looking to kick start your journey, we can cater to you. Through personalised training and individual coaching we can work together to help flyers obtain beautiful and elegant lines and help bases develop strength and control and take your practice further.
Part of giving you your perfect acroyoga experience is having you leave with a record of your achievement: something to remind you how much progress you have made now, and something to look back on in the future as you continue on your acroyoga journey.
For each and every client, we also offer to choreograph and teach a beautiful flow that is custom-tailored to your ability before recording it in 4k with you.
In addition to your 1-2-1 session, we also offer professional photography services to capture your progress, whether it be for to share with friends on social media or for your own personal website, or just as a keepsake from your lesson to look back on in future. Indoors, outdoors, black and white or colour, you will be left with beautiful mementos of your acroyoga experience with us.
FAQ
Here are some of the commonly asked questions about 1-2-1 and private acro yoga coaching. If you have any others, please contact Acroyoga Sanctuary through the form below.
How long is each session?
Our 1-2-1 lessons are 90 minutes long and are tailored to your personal requirements.
All 1-2-1 sessions are delivered by out founder, Acroyoga Montreal instructor Angelo Tormena.
What should I bring to a 1-2-1 acro yoga session?
Please come in comfortable activewear; you will need to be able to move freely while we practice and perform. You may also wish to consider what you would like to wear for our photo/videoshoot - very loose clothing and large jewellery that can get tangled are not advised!
Yoga mats will be provided.
Where will the lesson be held?
Lessons and photo/videoshoots can be held in your home, place of work, a rented studio or even a public park. If you do not have access to a suitable venue, we can make arrangements for you.
Can I book a separate photo/videoshoot?
Yes, of course! Please visit the Contact page and send an email!
What happens if I need to cancel my session?
Can I hire Acroyoga Sanctuary to perform or teach at my own event?